How I (almost) got away with murder
A story by Suraj Jamge about the events of the 2020 winter edition of the Wageningen Board Gamers Getaway.
It was the winter of 2020,  which was remarkably not so chilly. Walking through the woods of Lunteren, in the darkness an evil was lurking around,  either lynching innocent villagers or even worse making the dead tap on beats of Bollywood. This was just one of the scenes of what was happening at the winter edition of WBGs retreat.
The event started off with four fools balancing themselves off a seesaw waiting for the gates to open. The three ladies aka queens with no kingdoms who spearheaded this horrifying event, started off with unloading tons of food for the invited guests. The guests (a bunch of hungry board gamers) brought in tons of games either to play or to aerate their shelves back home during the weekend.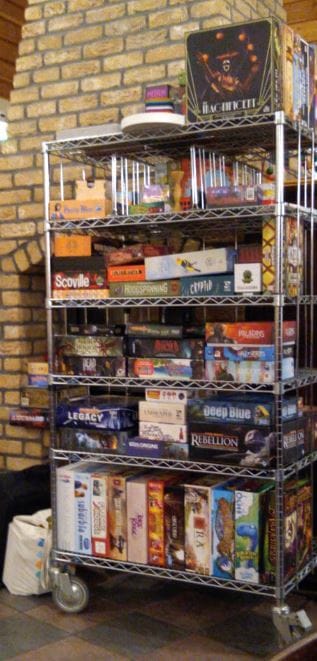 The event kicked off in no time and the room was full with meeples, dinosaurs, tiny zombies, contagious pandemic cubes, dice, deluxe metal coins and all kinds and shapes of wooden components . A few hours in we paused to hear from the three queens, who took us to the cellar aka disco dungeon. This is where the parallel live-action games took place during the weekend. This time that included – Codenames Alliteration, Werewolves and the newest release Gotcha with a chance to win the almighty WBGG trophy.
For the real life version of codenames everyone had to form their own codename starting with their initials. It was rather amusing, we had Exploding Erik, Imploding Irene, Wingspan Ward, Meeple Marco, Smoking Suraj, Lovely Lisette, Birthcontrol Boris, Spider Sam, Warrior Waritza, Jester Jos, Nuclear Nienke and Mischievous Maxime. Pistol Pjotr tracked down the most spies to their correct team and won this one.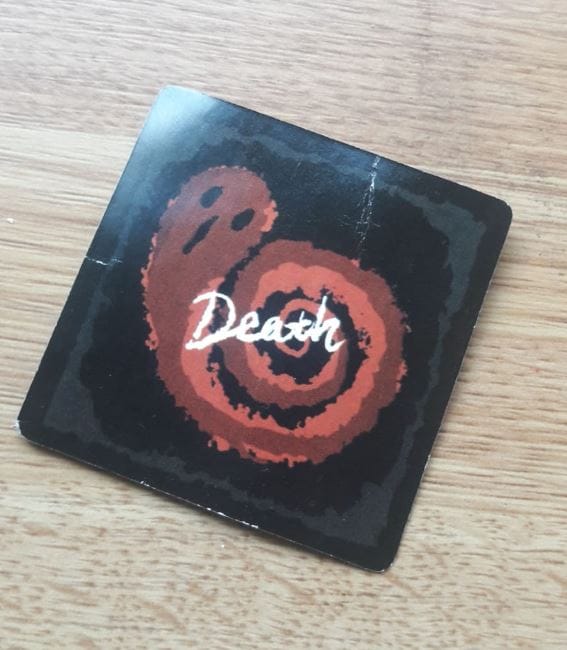 The game of werewolves kicked off pretty soon afterwards, with around 30 players and so many new characters the chaos was inevitable. Gamers soon regrouped to form their own cult and come up with a strategy in a hope to escape from being eaten or lynched. But, as you know, when you least expect it death is knocking right on your door. The famed Killer Kitchen was "THE" place where most action occurred. It was a risky yet fine place to spot distracted hungry board gamers and devour them at once. After all, Werewolves like to dine in style. Why do I know so much about werewolves, it must be clear by now I was one of those evils who almost made it to the last 3 persons and got away with a lot of murders. Even though I got caught in the end, I did get to enjoy a grand meal, with for starters Irene, for the main course Sam and Stefan and as dessert Erik.
The most tough and fun part of the weekend for me was the Gotcha challenge.  It was a one-on-one unique challenge where you had to trick another player into doing something they did not intend to. A few of my challenges included playing a space themed game with Hector, catching Pjotr at his best (i.e. lying), making Sam play his favourite player colour (Red), taking a selfie while playing with Harmen and making Martiza dance with me. By tricking everyone in doing these things I won the esteemed WBG trophy, which now happily rests in my board game closet until the next WBG retreat.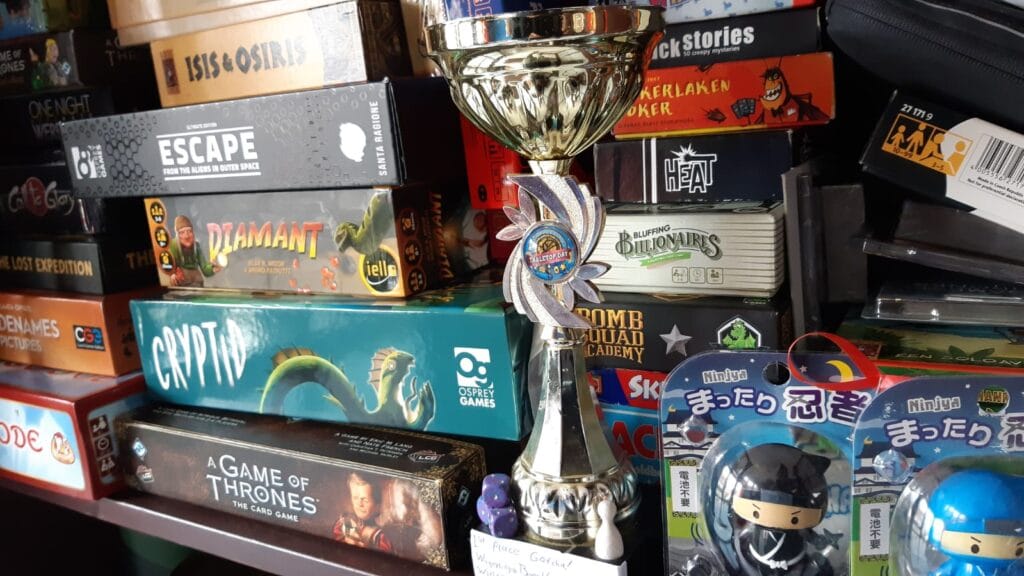 Thanks to Randy, Nienke and Irene for 48 hours of nightmare, great food and fun times. I look forward to our next retreat.  Awoooo, Smoking Suraj