Excited about Essen Spiel
An interview with Irene Leemans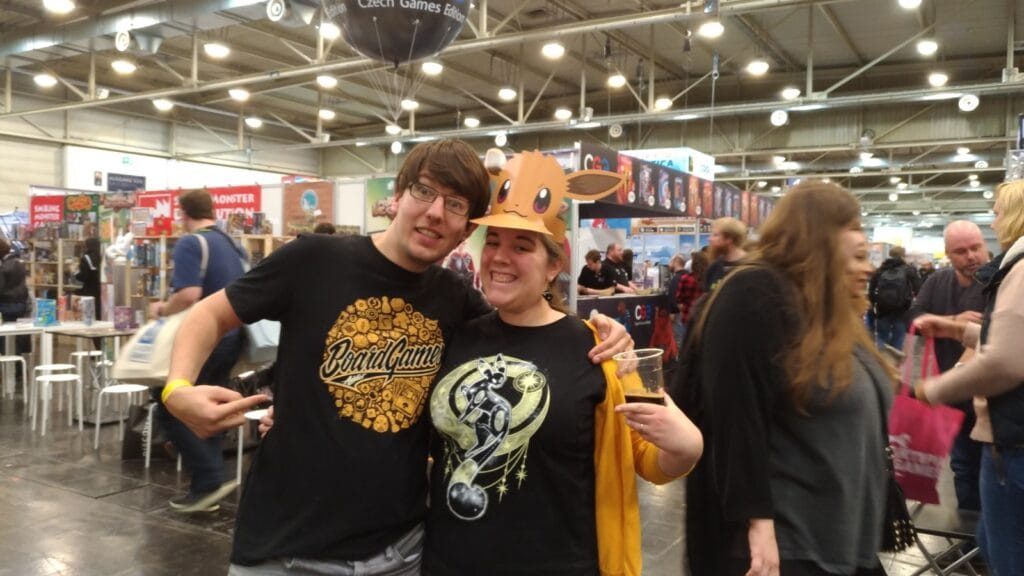 First what is Essen Spiel and how did you find out about it?
Spiel is, as far as I know, the biggest and most awesome board game convention of the world. Spiel is held each year in the Messe in Essen for four days at the end of October. During these four glorious days you get to explore about 80.000m2 filled with board games. Over 1000 games are being released at Essen and you get to attempt to play maybe 40 of them, if you're lucky.
I first got into board games when I was doing my minor at University College Cork. UCC had a great array of societies you could join, and I decided to join the board gaming society called the WARPS. Next to their regular game nights, they also had trips to small board game conventions at other universities. Once I got back to the Netherlands, I really started to miss these fun trips and started looking for similar conventions here and that's how I ran into Spiel.
How was your first time going to Spiel and how often have you been after that?
The first time I went to Spiel was in 2015. A friend, my boyfriend and me had already visited some smaller conventions in the Netherlands and decided it was time to go and see what Spiel was all about. Since it was kind of a last-minute decision all hostels were fully booked so we decided to just go camping for the weekend, because how cold can it be in October? So we packed up our camping gear, took a Flixbus and arrived at the Messe at about 3 in the afternoon. After dumping all of our stuff at the lockers, we finally got to go inside and be blown away by the greatness of Essen Spiel. I think that that afternoon we'd only seen 1 or maybe 2 of the 7 halls. I was definitely blown away by how huge Spiel was and we just wandered around for a bit and tried to play as many games as possible.
After barely surviving the cold night with hardly any sleep, we returned early the next morning. We played more games and I wandered around for a bit on my own while Adriaan and Erik-Jan played a demo of Mega Civilization, which apparently is having a rerelease at this Spiel under the name Western Empires. I discovered a cool comic-con like hall selling all kinds of merchandize, shopped there for a bit and then joined a group of Germans for a game. I returned to Adriaan and Erik-Jan to find out Adriaan had purchased Mega Civilization, which certainly lived up to its name with its contents weighing about 10 kilo's. We shopped a bit more in the Queen Games tunnel and then took the train back totally packed with games and camping gear.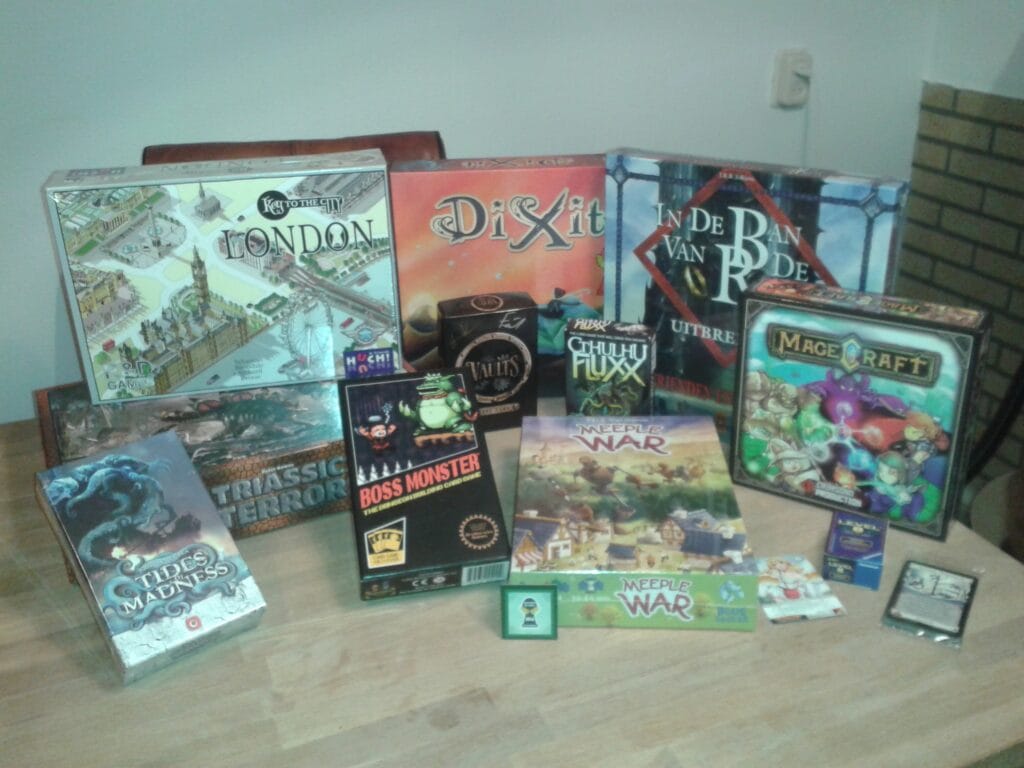 After that first year, I've been to Essen every year since. Going just for the weekend proved to be too short for me to see and experience everything, so every year afterwards we've been going for the full 4 days. And even then I still find it too short and wish Spiel would go on for a few more days.
How do you prepare for Spiel?
The first two years, I just let myself be overwhelmed by all the games Spiel had to offer and did not really prepare anything in advance, except for booking a place to sleep. What's nice about this is that you get to wander around the halls feeling amazed by everything Spiel has to offer and just play games that look appealing or, let's just be honest, ones that have some free spots available. This is great, but being unaware of which games are being showcased might also mean you miss out on some games that would really suit you.
That's why nowadays I like to prepare a list of all the games I am interested in checking out and print these together with the Hall plans. In this way, if I'm with a group in for instance Hall 6 and we are wondering which direction to go to I can just look at my map and list and tell them, hey there's this game that looked pretty cool at booth E-107, want to check it out? Making this list gives me some direction to the madness that is Essen Spiel. To see which new games will be released in Essen and to tag my favourites I use the Preview List at Boardgamegeek. Here you can easily search based on game mechanics, number of players or price. I usually attempt to look at every game on the list, but make sure to especially check out the new collection of my favourite publishers such as Japonbrand, Japanime, Libellud and AEG.
Next to my list of new games, I also keep a list of games I liked at previous conventions, but were out of my budget at the time. About two months before Essen a huge auction is started online where people attending Essen Spiel sell games they have grown tired of. About 10.000 games are put up for auction each year and it's a great way to acquire some well-known or rare and weird games at a discount. There is also a big math trade going on each year, where instead of selling, people trade away their games. There is a designated spot and time at Spiel where these people meet, trade and sell each day and it's a lot of fun to participate in the chaos of it.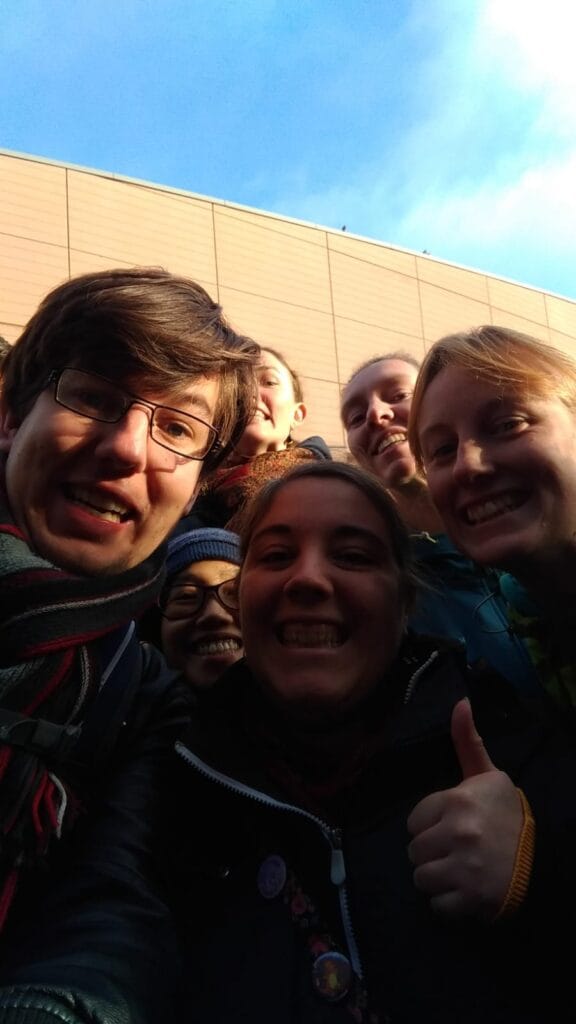 What are you most excited about?
The thing I always look forward to the most is the first day of Spiel. I am not much of a morning person, but when it comes to Spiel I almost get excited about leaving at 7.30 in the morning to make sure we have arrive an hour early to get a decent parking spot. The excitement of the first day, the doors opening, the crowd rushing in to their most anticipated games, viewing the enormous halls filled with games once more, that is definitely my favourite moment about Essen Spiel.
Other than that I am excited about the big array of cute cat games coming out this year, such as Frenemy Pastry Party, Kung Fur Fight, Cat Café, Laser and the premium edition of Cat Lady. I am also excited to check out and pick up some (semi) cooperative games such as We're Doomed, Obscurio, Dim Sum Jam and Edge of Darkness.
Finally, I decided to give dexterity games the benefit of the doubt and am looking forward to trying out the cute dexterity demo Chopsticks, which is basically air hockey with sushi and chopsticks and the Mech flicking campaign game Iron Forest.



Do you have tips for people attending Spiel for the first time?
If you are planning to go to Spiel, there are a few things you have to keep in mind:
1. About 200.000 other people will be going as well, so make sure you book your accommodation ahead in time. Preferably just after Spiel ended and the next one is announced.
2. Do not go camping! It is definitely too cold in October to go camping!
3. Bring your lunch, snacks and drinks. You can buy food at the convention, but it's mainly curryworst, pretzels and cinnamon cones, which can be nice for one lunch or dinner, but probably not for 4-days straight. Also you might get hungry while playing a complex Eurogame with some Germans, and what is more fun than offering them some drop or chocolade pepernoten? ;)
4. Be ready to be overwhelmed by all the games and people. If you want some peace and quiet, and some much needed fresh air, take a break outside by going through one of the secret doors between the halls or take the door behind the big red tree window at the food court.
5. Book your entrance ticket online. This is the first year I am booking my ticket online in advance, since last year they made some changes to the way people could enter and it was much easier to get in with online tickets. They charge you with a €2 fee when booking your ticket online, but not standing in line in the morning and being able to rush to your favourite game is definitely worth it!
6. Buy games in advance. Of course you can buy new games at Spiel, but what about that cool game you've wanted for years now but always found too expensive to buy? Try to hunt down some of your favourite games at the Essen auction list. But with about 10.000 games on offer there, be careful to not spend all of your budget at once.
7. Try to claim a locker at the cloak room. This is especially useful if you are attending Essen for the full 4 days as you will be able to store your newly bought games, lunch and jackets in there. It will save you a few bucks as you have to pay for each item separately at the cloak room.
8. Embrace the chaos, people, games and above all have fun!
And that has been Irene Leemans with Excited for Essen!